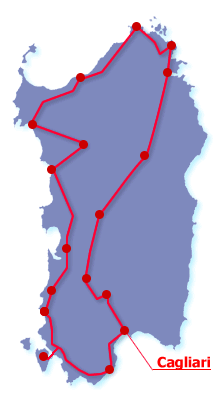 Day 1
Arrive at Cagliari and pick-up of the rental car at the airport. Dinner and overnight at the hotel.
Day 2
Nora / Sant'Antioco / Nebida / Antas / Oristano (Kms 220)
Departure to Nora, a Punic-Roman town situated on the Capo Pula promontory. Then to Sant'Antioco and visit of the Tophet. Continue to Nebida: panoramic view on the Pan di Zucchero and the old mines, than back for a short visit of the Sardus Pater temple in Antas. Driving along Guspini and Arborea to Oristano. Dinner and overnight at the hotel.
Day 3
Bosa / Torralba / Alghero (Kms 200)
After a short visit of the city of Oristano, continue to the Sinis peninsula and stop in Tharros, the largest Punic town on the island. The ruins of Tharros can be seen at water's edge partially submerged. Along the panoramic road to Cuglieri arrive in Bosa, visit to the nice historical center dominated by the old castle ruins. Continue to Torralba and visit of the Reggia Nuragica di Santu Antine. Arrive in Alghero in the late afternoon. Dinner and overnight at the hotel.
Day 4
Alghero
City sightseeing: the old city center is perfectly preserved with its beautiful churches, the cobble stones paving, nice palaces, residences of the Catalan nobles in ancient times. Afternoon at leisure, possibility of boat excursion to the Caves of Neptune. Dinner and overnight at the hotel.
Day 5
Castelsardo / Santa Teresa di Gallura / Porto Cervo / Olbia (Kms 200)
Castelsardo, in ancient times Castel Doria, surprises those coming along the coastal road with its striking view. Continue to Santa Teresa and Capo Testa, from where it is possible to see the white southern coast of Corsica. Arrive in the Costa Smeralda, Sardinia's best known tourist area: Porto Cervo, Liscia di Vacca, Romazzino are names famous all over the world, as famous as Gallura beauty, with its strangely shaped granite rocks, the big expanse of perfumed Mediterranean vegetation, the limpid sea with its incredible colors. Dinner and overnight in Olbia.
Day 6
Olbia / Nuoro / Santa Cristina / Mogoro / Villanovaforru / Cagliari (Kms 200)
Drive inland to Nuoro; panoramic tour of the city, birthplace of the 1926 literature Nobel Prize winner, Grazia Deledda. Departure to Cagliari. Stop at the nuragic village of Santa Cristina to visit the Sacred Well. Continue to Mogoro to see a traditional carpet making shop, then to Villanovaforru for a visit to the archaeological museum. Arrival in Cagliari, dinner and overnight at the hotel.
Day 7
Cagliari
In the morning sightseeing tour of Sardinia's capital, founded by the Phoenicians. Highlights include: the Roman amphitheatre, the Tower of San Pancrazio, the Cathedral and the Terrazza Umberto, a 19th century neo-classical staircase built over the old Spanish bastions, which offers a magnificent view of the city and port. Afternoon at leisure. Farewell dinner.
Day 8
Cagliari. Leisure-time and individual departures.
---
Book a tour